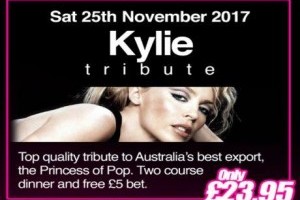 OPERA HOUSE CASINO'S HIGHLY SUCCESSFUL RUN OF TRIBUTE ACTS CONTINUES ON SATURDAY 25th NOVEMBER with our Kylie tribute
ENJOY GREAT LIVE ENTERTAINMENT, A TWO COURSE DINNER AND A FREE £5 BET FOR ONLY £23.95!
Contact Peter Day on 01723 357940,
, to book.
Starters
Roasted Tomato & Basil Soup, Served with herb croutons
Salt & Pepper Prawns, Salt & Pepper coated prawns, served with a rocket, lime & coriander salad, topped with seafood sauce.
Main Courses
Chicken & Smoked Bacon Mozzarella Bake, Served with white wine & chive sauce
Grilled Haddock Fillet, Accompanied by a rich chilli & dill dressing
Vegetable Stroganoff, Served with balsamic rice
All mains are served with medley of fresh garden vegetables & potatoes