Article Content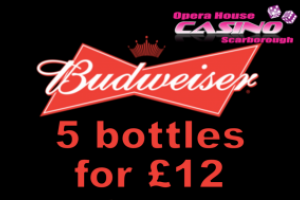 During the World Cup get 5 bottles of Budweiser for £12
14th June - 15th July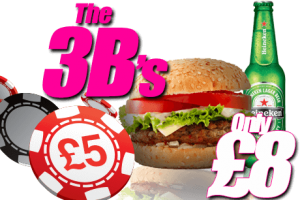 Thursday 14th June - Sunday 15th July
Friday - Sunday 4pm-11pm
Monday - Wednesday 6pm-11pm 
Get a beer, a burger and a £5 bet for just £8
Make your choice of plain burger, cheese burger, southern fried chicken burger or vegetable bean burger, served with burger relish, salad, fried onions, chips and coleslaw, add a bottle of Heineken, a glass of house wine (125ml) or a post mix and get a £5 bet for use on the electronic roulette and slot machines (T&Cs apply).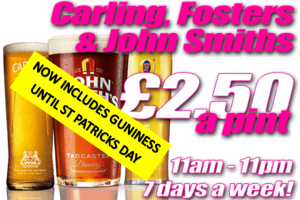 Lager & Beer
£2.50 a pint - Carling, John Smiths & Fosters only £2.50 a pint! NOW INCLUDING GUINNESS UNTIL ST PADDYS DAY
7 days a week!
Wine
Red, White & Rose Wines from just £8.95 a bottle
Shots
3x Jägerbombs £7, 3x Sambuca £7, 3x Tequila £6, 3x Corky's £3.50 (all 25ml measures)
Speciality Spirits
Vodka: Absolut, Grey Goose (several varieties), Smirnoff Gold, Smirnoff Espresso, Ciroc
Whiskey: Talisker, Canadian Club, Glenfiddich, JW Black Label, Bushmills, Jameson, JD
Tennessee Honey, Jim Bean Red Stag
Gin: Blackwoods, Hendricks, Tanquery, Bombay Sapphire
We have different drinks offers throughout each month and various weekend offers, so be sure to keep updated by checking our Facebook page!
---
Management reserves the right to change or withdraw offers / events at any time