Article Content
Get drawn 666 on Blackjack or Three Card Poker for your chance to win!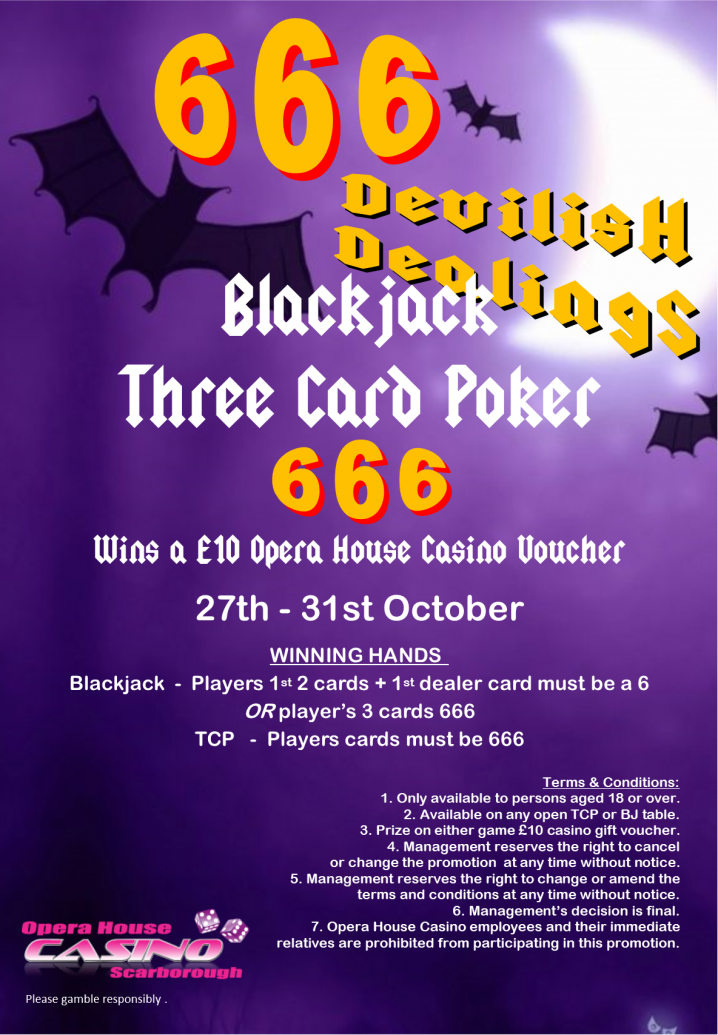 Come and join us for our spooky roulette tournament for your chance to win!!!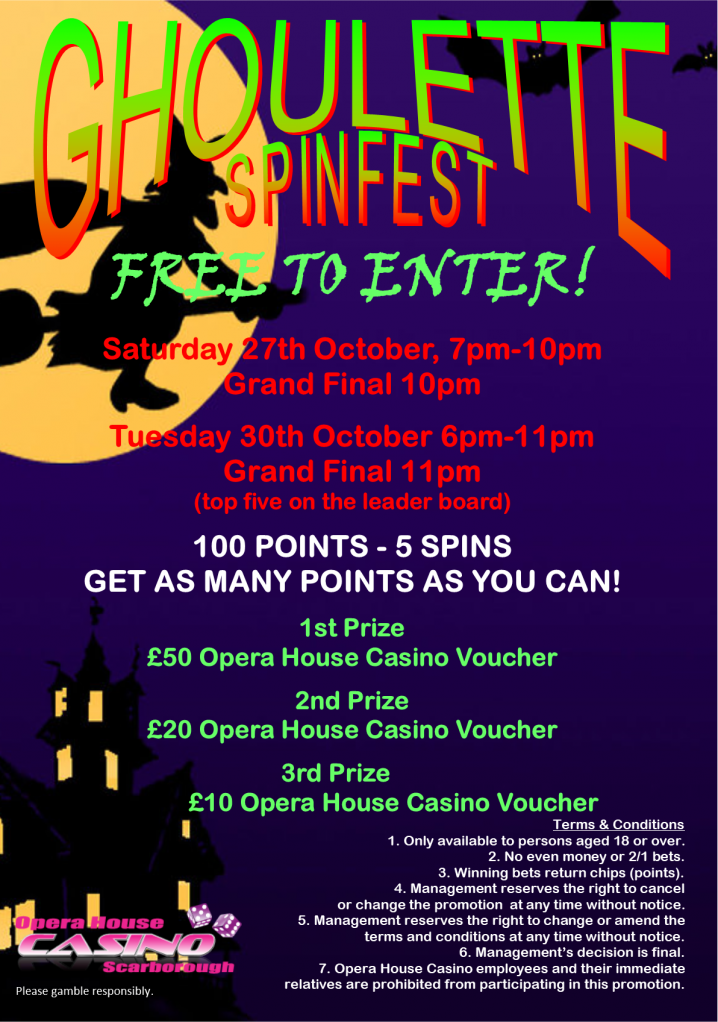 STARTING 6th OCTOBER
EVERY SATURDAY AND SUNDAY 4pm-8pm
Get a beer, a burger and a £5 bet for just £8
Make your choice of plain burger, cheese burger, southern fried chicken burger or vegetable bean burger, served with burger relish, salad, fried onions, chips and coleslaw, add a bottle of Heineken, a glass of house wine (125ml) or a post mix and get a £5 bet for use on the electronic roulette and slot machines (T&Cs apply).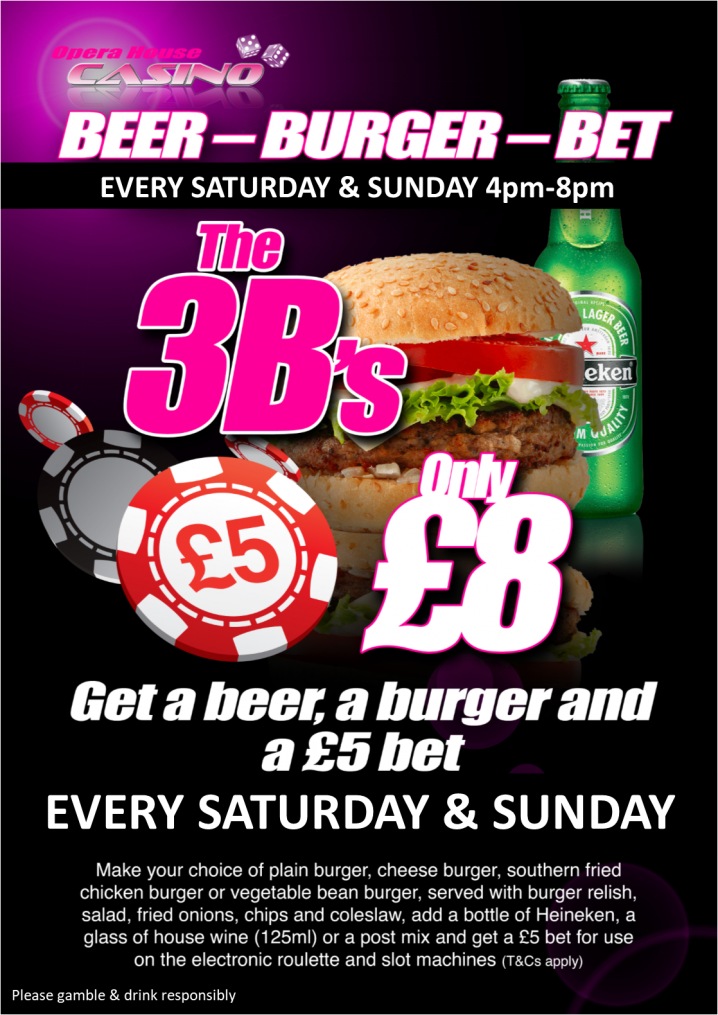 Terms and Conditions
Promotion only available to persons aged 18 or over
Promotion open to members only
The vouchers are only valid on the date indicated on the voucher
The promotion will run every Friday, Saturday and Sunday 
The voucher will be available at reception from 6pm until close on the days specified above
The voucher is only valid on roulette tables with the progressive available (AR1, AR2, AR4)
The voucher will be given to the dealer, who will then place a chip on the progressive bet
A maximum of 5 players may play the progressive on any one table where the progressive is available (AR1, AR2, AR4)
| | | |
| --- | --- | --- |
| Sequence | Paid | Example |
| 1st | Free Bet | 3,4 |
| 2nd | £700 | 3,4,5 |
| 3rd | Jackpot | 3,4,5,6 |

The above table demonstrates the amount paid if a sequence is established
A free bet will be given at the first sequence that must be wagered at the next break in sequence.
The amount of £700 will only be paid if the sequence is broken. If the sequence continues the £700 chip is to be returned to claim the jackpot.
Players may join the sequence at any stage but their wager is only valid from their initial start point. 
If a sequence is not established then the progressive wager will lose.
Only the highest winning sequence is payable
If the jackpot is won the jackpot total is shared equally with those playing on the successful table
It is not necessary to bet on the main game to play Run for Riches
The voucher cannot be used in conjunction with any other offer
Management reserve the right to suspend or cancel the offer if fraudulent use is suspected
One voucher per customer per gaming day
This offer is not open to Opera House Casino staff
Lager & Beer
£2.50 a pint - Carling, John Smiths & Fosters only £2.50 a pint!
7 days a week, 11am-11pm!
Wine
Red, White & Rose Wines 
Shots
3x Jägerbombs £7, 3x Sambuca £7, 3x Tequila £6, 3x Corky's £3.50 (all 25ml measures)
Speciality Spirits
Vodka: Absolut, Grey Goose (several varieties), Smirnoff Gold, Smirnoff Espresso, Ciroc
Whiskey: Talisker, Canadian Club, Glenfiddich, JW Black Label, Bushmills, Jameson, JD
Tennessee Honey, Jim Bean Red Stag
Gin: Blackwoods, Hendricks, Tanquery, Bombay Sapphire
We have different drinks offers throughout each month and various weekend offers, so be sure to keep updated by checking our Facebook page!
---
Management reserves the right to change or withdraw offers / events at any time