Two chances to Win Britney Spears Tickets 
For your chance to win simply visit is between the dates to collect your FREE voucher. 
Draw 1 - Enter the casino from 10am-10pm between 1st July - 20th July the draw will take place Friday 20th July 11pm 
Draw 2 - Enter the casino from 10am-10pm between 21st July - 3rd August, the draw will take place Friday 3rd August 11pm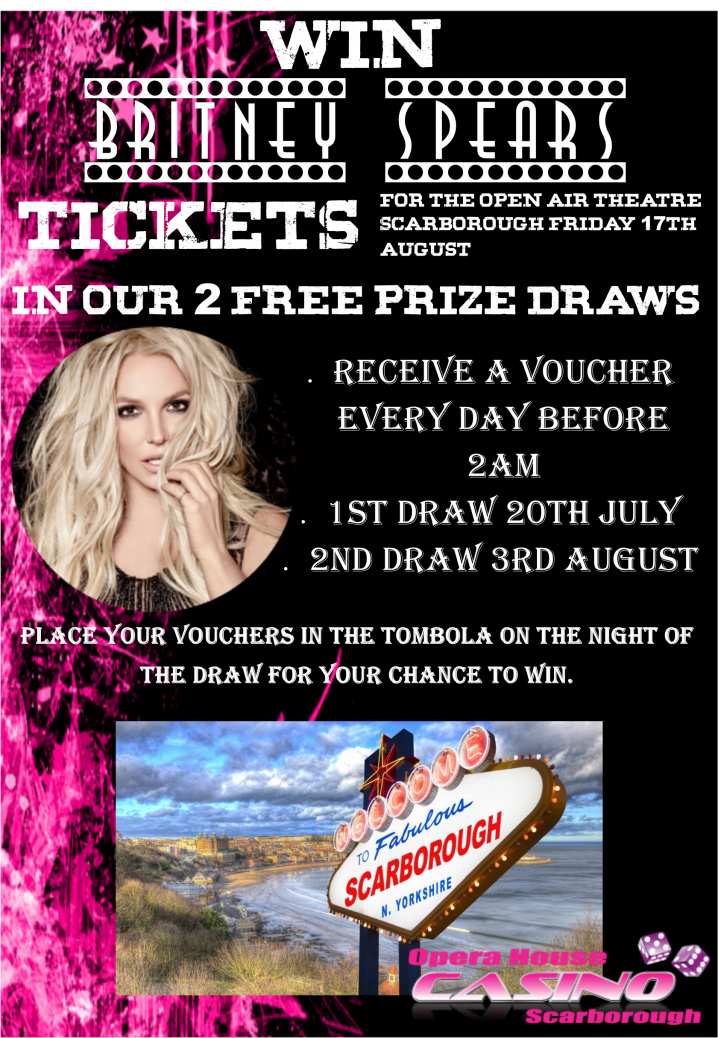 Terms and Conditions 
Britney Spears Terms and Conditions
Competition only open to people over 18
The free draw is only open to MEMBERS of the Opera House Casino.
Members can collect a voucher every day they visit the casino between the dates and times specified.
Only one voucher per gaming day.
Collect vouchers for draw 1 from 1st July - 20th July. The draw will be held on Friday 20th July at 11pm
Collect vouchers for draw 2 from 21st July – 3rd August, the draw will be Friday 3rd August at 11pm 
Vouchers from Draw 1 will NOT be valid for Draw 2
All vouchers must be placed in the tombola between 6pm-10.30pm on the day of the draw.
Vouchers placed in the box before or after this time will be invalid
The winner must be in the building at the time of the draw
If a voucher has been lost a replacement voucher will NOT be issued
If the winner is not in the building they forfeit their tickets and another ticket will be drawn
Members will have 10 minutes to claim the prize. After this time has elapsed, if the prize has not been claimed further tickets will be drawn from the drum at ten-minute intervals until a winner is established.
The winner will receive 2 tickets to see Britney Spears on Friday 17th August at the Open Air Theatre Scarborough in the White Block
The tickets are non-transferable for a cash prize
Any tickets that are deemed to have been forged will result in all tickets for that person becoming invalid
Winners may be expected to partake in publicity
Management reserves the right to cancel or change the promotion at any time without notice.
Management's decision is final.
Opera House Casino employees & their immediate relatives are prohibited from participating in this competition.