Try your luck in our March Slots Tournament 
Sunday 3rd March until Thursday 28th March 
Sessions between 5pm-6pm and 10pm-11pm 
Top 25 will go through to 5 semi-final rounds on Friday 29th March 8pm 
Winner of each round will go through to the Final on Friday 29th March 9pm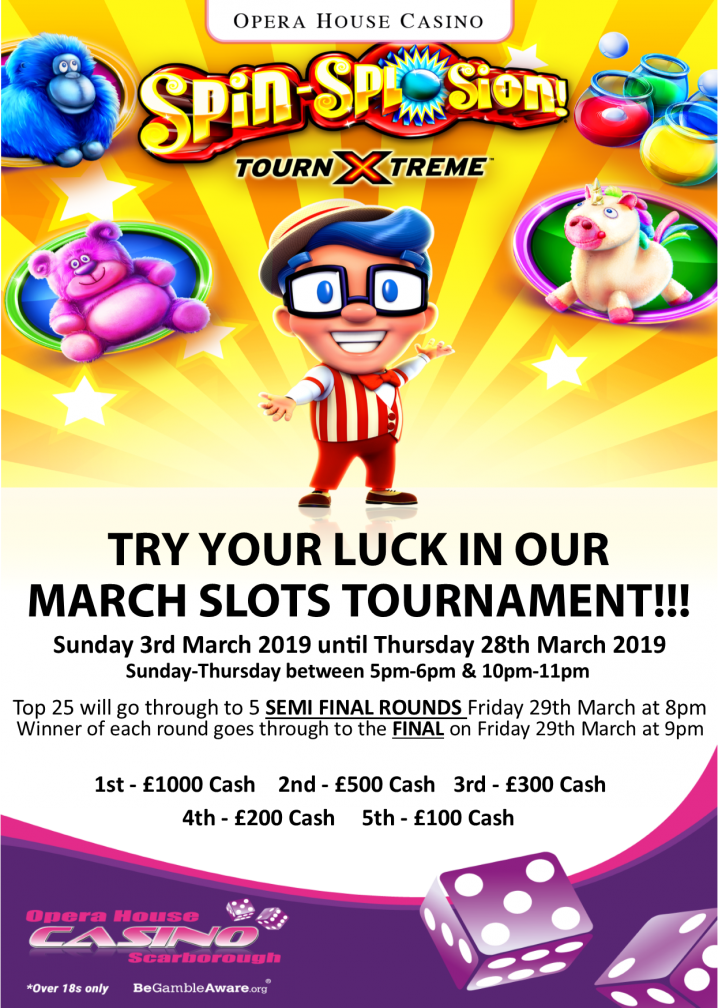 Terms and Conditions 
Players must be aged 18 or over to participate in the tournament and by doing so agree to these terms and conditions.
By participating in the tournament players agree to have their full name and membership number held for future registrations.
The Spin Splosion Tournament Session is for Opera House Casino members only. All non-members are welcome to join at Reception
The tournament is free to enter
Sessions will run Sunday - Thursday from 3rd - 28th March with the semi-final on Friday 29th March at 8pm and the final on Friday 29th March at 9pm
Tournament sessions will be 5-6.15pm and 10-11.15pm Sunday - Thursday within the above dates.
Vouchers will be given out at reception from 4pm-6pm and 9pm-11pm
The Tournament Session is open for registrations between 5-6pm and 10-11pm on the dates stated above.
All tournament entrants must sign in at reception and collect a voucher with their membership number on and session code
Session codes will be eligible for entry until 6.15pm and 10.15pm on that given day.
The session code will need to be entered onto the participating machines (IGT Slant only), you will then have 10 seconds before your two minute session starts.
The IGT Slant machines will be set up in tournament mode for the duration of the tournament.
Your first initial and surname will be displayed on the machines screen and on the TV screen above the IGT Slant machines for the duration of the tournament.
Players will have 2 minutes to generate the highest score by pressing the repeat bet button at the same time as lightly tapping the screen on the parachutes that generate bonus points.
Tournament is of a non-cash value and therefore any credit used in a tournament is demonstration only.
Your final score will be displayed on the screen after the 2 minutes session has finished
The top 25 people with the highest number of credits at the end of the final session on Thursday 28th March will go through to the 5 semi-final rounds on Friday 29th March at 8pm where there will be 5 rounds of 5 people.
The winner of each semi-final round will go through to the final to be held on Friday March 29th at 9pm
A customer can only have one seat in the semi-final, if they have more than one qualifying score, the highest score will be counted and any lower scores will be disregarded
By entering the tournament, you agree to be contacted via email or phone if you reach the semi final
If you are unable to attend the semi-final and/or final you will forfeit any placings and winnings and the next available player will be asked to take your place.
The following prizes will be given out in cash for the final 5 places;
               1st - £1,000
               2nd - £500 
               3rd - £300
               4th - £200
               5th - £100 
The winner of the tournament will be announced at the conclusion of the final on March 29th
Winners need to be in the building if they have just completed the final
Any prizes that are not claimed at the conclusion of the tournament will be voided.
In the event of a tie the amount from that placing and the next lower position will be added together and divided by the two players (ie 2nd & 3rd will be come £800 so each player will receive £400)
One session entry per player per gaming day
Employees of Opera House Casino and immediate family members are unable to enter.
Management reserves the right to change or cancel the tournament at any time.