1st - 28th December 11am-11pm
Complete a full card to enter our prize draw! Friday 28th December.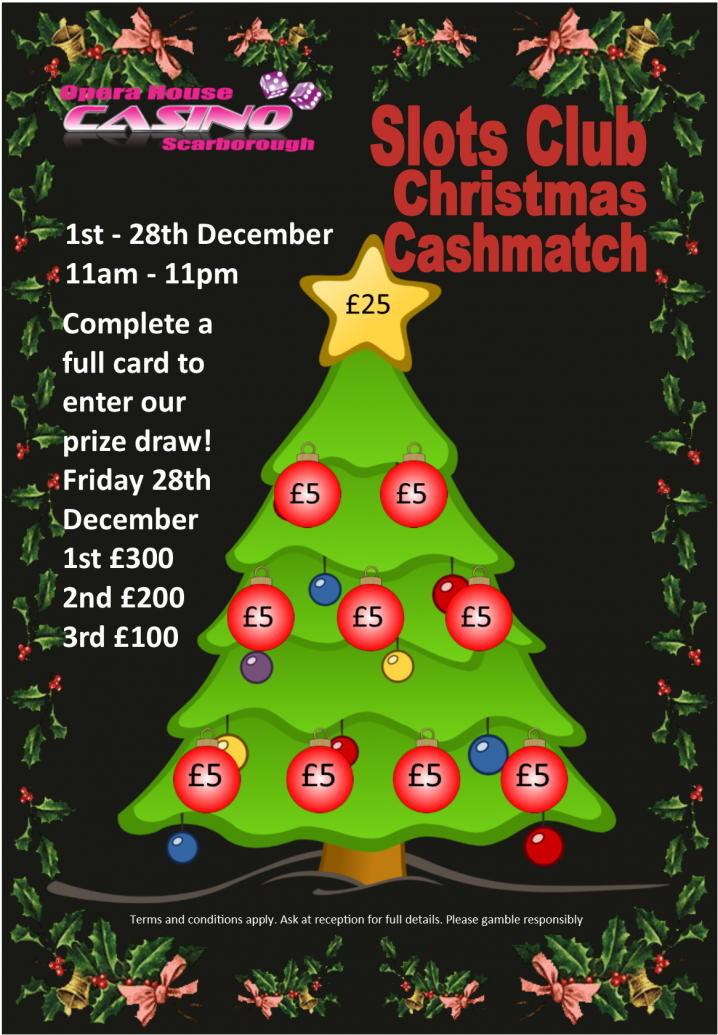 TERMS & CONDITIONS
Slots Club Cash Match 2018
Offer only open to persons aged 18 or over.
Promotion open to members of Opera House Slots Club
Promotion runs from 1st December to 28th December 2018
Slots Club members will be given a stamp card for the month of December on their first visit of the month.
Customers will only be given 2 stamp cards during the dates stated.
If the customers loses the stamp card, they will be given 1 extra stamp card, if they lose a second card no more replacements will be given.
The customer must get their card stamped on each day on entry at reception.
Cards can only be stamped between 11am-11pm.
Only 1 stamp permitted per gaming day.
On visits 1-9 the customer will receive a £5 cash match, on the 10th visit they will receive a £25 cash match.
On the 11th visit customers will receive a new stamp card from reception and start the process again from the beginning.
When a customer has a completed stamp card, they can place in the drum for the prize draw on Friday 28th December at 11pm
The customer has to be in the building at the time of the draw to claim their prize.
1st Prize - £300, 2nd Prize - £200, 3rd Prize - £100.
All Cash Match tickets are non-transferable and MUST be played by 6am on Saturday 29th December 2018
Any attempt to redeem the ticket without play will result in the ticket being of no value and the promotion being refused to that player
Once stamped present your stamp card and the equivalent amount at the Bank in exchange for your playable ticket.
Management reserves the right to cancel or change the promotion at any time without notice.
Management reserves the right to change or amend the terms and conditions at any time without notice
Management's decision is final
Opera House Casino employees and their immediate relatives are prohibited from participating in this promotion.