Texas Hold'em Poker is the main game played in UK Card Rooms and possibly the most widespread version of Poker in the world. Our tournaments are held every Monday and Thursday with various Poker events/competitions throughout the year.
All Poker events are now dealer dealt.
Complimentary hot and cold food is served at all our competitions.
Should you require further information or would like to arrange a private tournament, please email .
Weekly
Monday
£10 Re-buy Competition
1500 points
Unlimited Re-buys
Double add on's available at the end of the re buy period 3000 points. 
Thursday
min. £1000 rolling guarantee with 25+ players!
Rolling Guarantee increased by £50 a week every time attendance is consecutively 25+ players.
£20 Double Chance
5000 points
Cash game which starts approximately 10.00pm 
1st Thursday of the Month
3-2-1 You're back in the game
Register for £30 receive 5,000 chips
Re-buy for £20 receive 6,000 chips 
Add on for £10 receive 7,000 chips 
2
nd

 Thursday of the Month
3

rd
 

Thursday of the Month
Special - ask for further details 
4
th

 Thursday of the Month
5
th

 Thursday of the Month (where applicable)

A registration fee of minimum £5 or 10% of the entry fee is applicable for each of our competitions.

For all of the above competitions registration opens at 6.30pm until 7.15pm, with the competition starting 15mins after registration closes (7.30pm).

Early Bird Bonus Points – 500 for Unlimited Re-buys and 1500 for Limited Re-buys for every player registered, paid and in the Card Room ready to play at 7.30pm.

Late registration available until 9pm and there will be no chip penalty for late entry. Players can register for Poker, either at Cash Desk, in the Card Room, or telephone Reception.

During every competition there will be the facility to re-register for the competition. In order to re-register before the break, players must be completely knocked out of the competition. Re-registration will also incur a further £1 fee being paid for the Rolling Royal & Straight Flush Jackpot if the player wishes to qualify for this. Players will then be allocated a new seat number by the Supervisor of the Card Room.
Competitions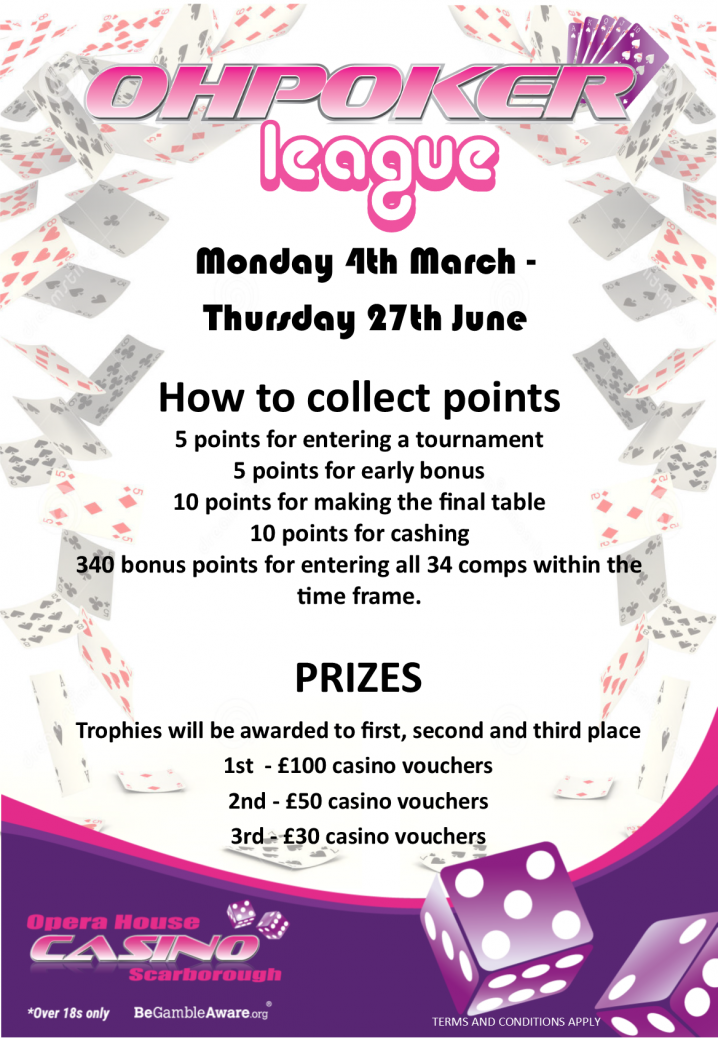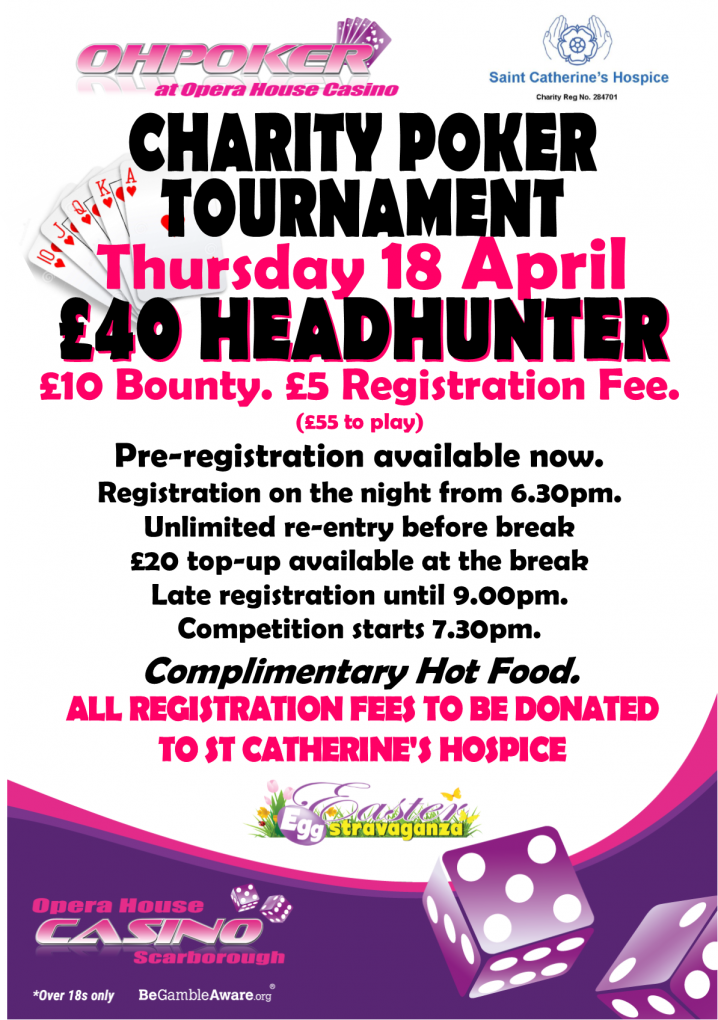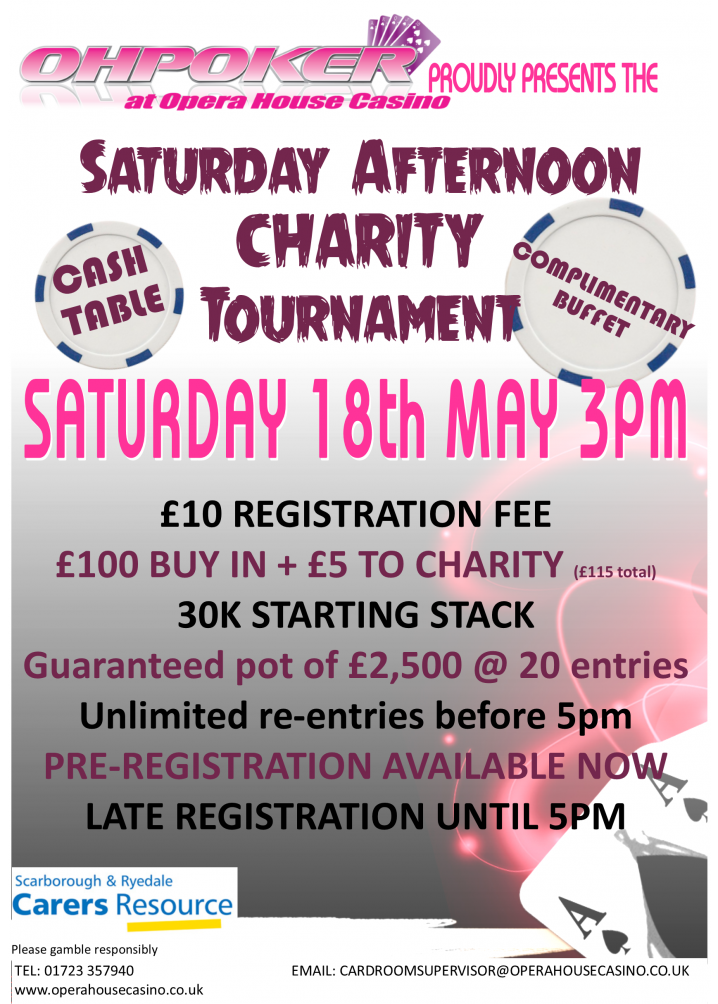 Poker League Results 
POS
PLAYERS NAME
SCORE
 
WK 22
WK 23
WK 24
WK 25
WK 26
WK 27
WK 28
 
MON
THUR
MON
THUR
MON
THUR
MON
THUR
MON
THUR
MON
THUR
MON
THUR
1
F. Taal
245
 
0
30
20
20
0
10
25
10
30
30
30
30
10
 
2
R. Sutcliffe
235
 
20
10
10
10
10
30
30
5
10
10
30
30
30
 
3
M. Gomersall
205
 
20
25
10
5
20
5
20
30
30
5
10
5
20
 
4
J. Smith
170
 
30
0
0
30
30
30
20
0
0
30
0
0
0
 
5
K. David
170
 
30
0
30
0
30
0
0
0
30
0
20
0
30
 
6
N. Raine
165
 
0
20
0
30
0
30
5
10
5
10
25
30
0
 
7
C. Davis
160
 
0
0
25
0
0
0
15
0
5
0
20
0
95
 
8
B. Glassell
135
 
10
0
20
10
20
0
10
20
10
10
5
0
20
 
9
P. Kirby
125
 
0
30
10
30
0
15
0
0
0
0
30
10
0
 
10
T. Whitton
115
 
25
5
20
15
15
25
0
5
0
5
0
0
0
 
11
G. Matla
95
 
0
20
0
30
0
10
0
15
0
15
0
5
0
 
12
P. J. Smith
85
 
0
0
25
0
0
0
20
10
10
10
10
0
0
 
13
D. Harrison
75
 
0
0
15
0
15
0
0
0
10
5
0
0
30
 
14
M. Ferguson
70
 
0
0
0
0
0
0
30
30
10
0
0
0
0
 
15
K. Sclater
70
 
20
0
0
0
0
5
0
0
0
25
10
10
0
 
16
M. Bottomley
70
 
0
15
0
0
0
0
0
25
0
10
0
20
0
 
17
C. Taylor
65
 
0
0
0
0
20
0
0
25
20
0
0
0
0
 
18
S. Li
60
 
0
25
0
5
0
15
0
5
0
5
0
5
0
 
19
D. Brown
60
 
0
0
0
0
0
5
0
20
0
5
0
30
0
 
20
C. Blades
50
 
0
5
5
0
0
5
0
0
0
20
5
10
0
 
21
S. Woodhouse
45
 
25
0
0
0
0
0
0
10
0
0
0
10
0
 
22
R. Dolan
45
 
0
0
0
5
0
0
0
0
20
0
10
0
10
 
23
M. Slaven
45
 
0
0
0
0
0
0
0
0
25
0
10
0
10
 
24
B. Mills
40
 
0
10
0
0
0
10
0
0
0
10
0
0
10
 
25
D. Cowton
40
 
0
0
20
0
0
0
0
0
0
0
0
0
20
 
26
N. Okeefe
30
 
0
0
30
0
0
0
0
0
0
0
0
0
0
 
27
T. Lyons
30
 
0
0
0
30
0
0
0
0
0
0
0
0
0
 
28
R. Mcentevy
30
 
0
0
0
30
0
0
0
0
0
0
0
0
0
 
29
L. Brough
30
 
0
0
0
0
0
0
0
25
5
0
0
0
0
 
30
A. Greenwood
30
 
0
0
0
0
25
0
0
0
0
5
0
0
0
 
31
F. Price
30
 
0
0
0
0
0
0
0
25
0
0
0
5
0
 
32
D. Orourke
25
 
0
0
0
0
25
0
0
0
0
0
0
0
0
 
33
G. Cattuthers
25
 
0
0
0
0
0
25
0
0
0
0
0
0
0
 
34
P. Snaith
25
 
0
0
0
0
0
0
0
0
25
0
0
0
0
 
35
S. Towse
25
 
0
0
0
0
0
0
0
0
25
0
0
0
0
 
36
P. Graham
25
 
0
0
0
10
0
0
0
5
0
5
0
5
0
 
37
J. Gregory
25
 
0
0
0
20
0
0
0
0
0
0
0
0
5
 
38
C. Davis
20
 
20
0
0
0
0
0
0
0
0
0
0
0
0
 
39
W. Taylor
20
 
0
0
0
10
10
0
0
0
0
0
0
0
0
 
40
P. Walsh
20
 
0
0
0
0
0
0
20
0
0
0
0
0
0
 
41
J. Dodds
20
 
15
0
0
0
0
0
0
0
5
0
0
0
0
 
42
M. Wignall
20
 
0
0
0
10
0
0
0
0
10
0
0
0
0
 
43
A. Noble
20
 
0
0
0
10
0
0
0
0
10
0
0
0
0
 
44
S. Anjoy
15
 
0
15
0
0
0
0
0
0
0
0
0
0
0
 
45
B. Neogoe
15
 
0
15
0
0
0
0
0
0
0
0
0
0
0
 
46
C. Benson
15
 
0
0
0
0
0
0
0
0
5
0
10
0
0
 
47
A. Rodgers
10
 
0
0
0
0
0
0
0
0
10
0
0
0
0
 
48
E. Solberg
10
 
0
0
0
0
0
0
0
0
10
0
0
0
0
 
49
A. Bowes
5
 
0
0
0
0
5
0
0
0
0
0
0
0
0
 
50
G. Forrest
5
 
0
0
0
0
0
0
0
5
0
0
0
0
0
 
51
J. Jones
5
 
0
0
0
0
0
0
0
5
0
0
0
0
0
 
52
S. Rahmad
5
 
0
0
0
0
0
0
0
0
5
0
0
0
0