Article Content
JOIN AS WE WELCOME 2019!
live singer in the stalls bar from 9pm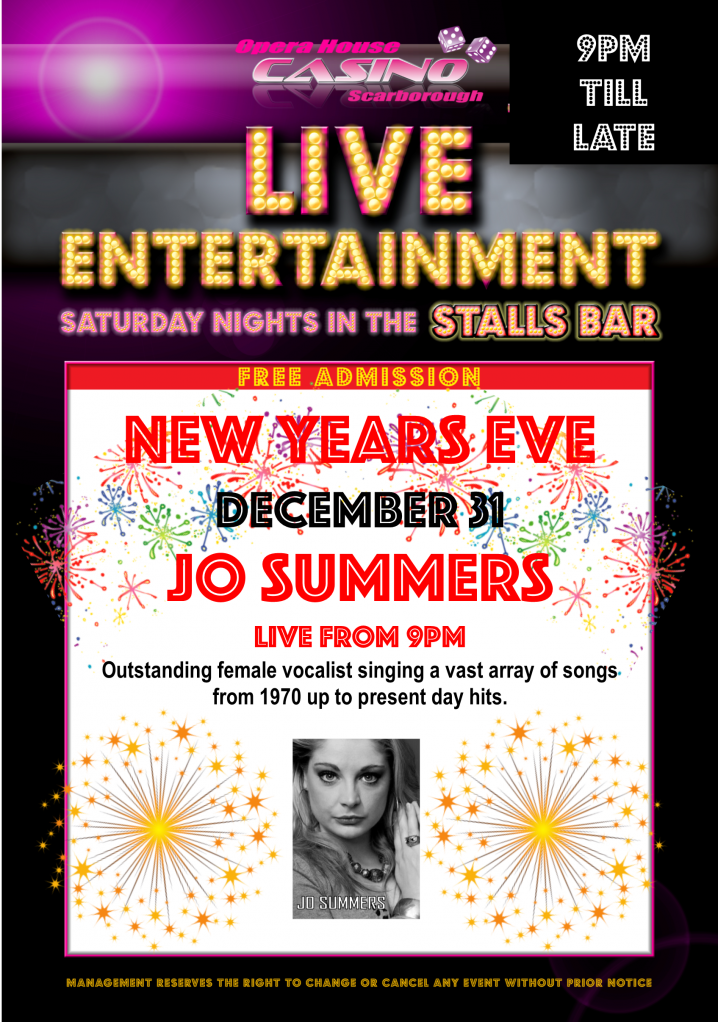 Electronics Party December - Friday 28th
Join us on Friday 28th December from 4pm until late for our famous Electronics Party and Tournament!
£10 Cash Match, FREE Drink Voucher (valid from 4pm -midnight) and FREE Hot Buffet from 9pm until midnight!
You can now play for jackpots of £4,000 and £10,000 on our state of the art slot machines whilst soaking up the party atmosphere. Why not also treat yourself to a pint of Carling, Fosters or John Smiths for only £3 a pint ('til 7pm)!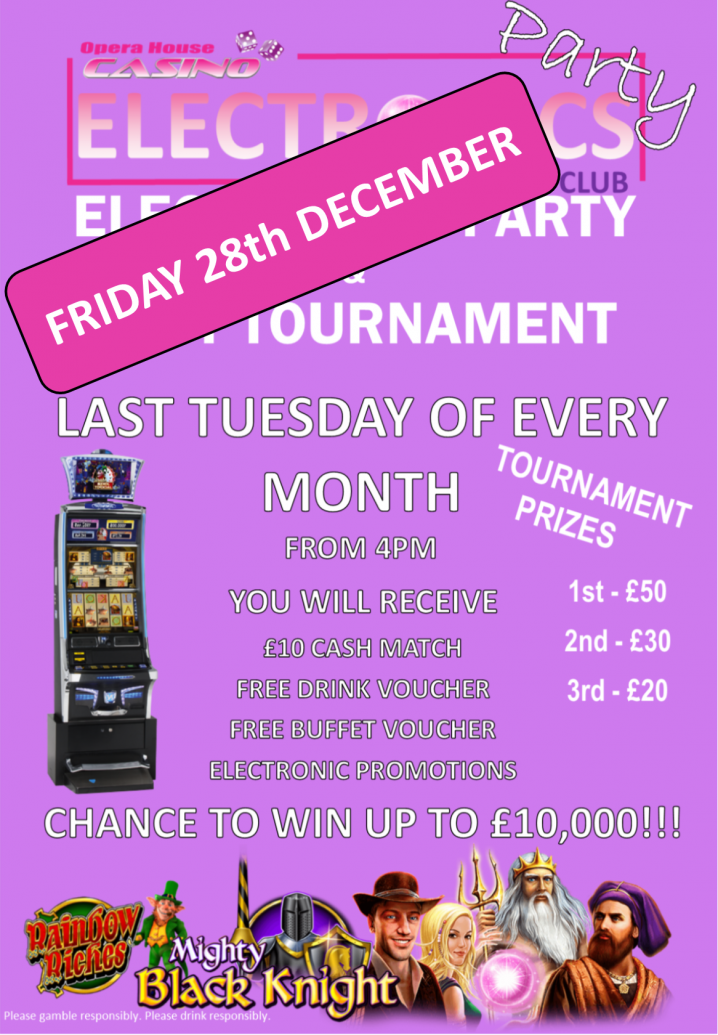 3 course dinner, glass of prosecco on arrival free £5 roulette bet, learn to play sessions, live entertainment and christmas novelties FOR ONLY £29.95
eat, drink and be merry at one of our hugely popular christmas party night - whatever the size of your group!
Available dates: Friday 21st and Saturday 22nd. 
Private parties available Sunday - Thursday for groups of 30 people or more.
For further information, and to check availability, contact Bianca Shaw at , or on 01723 357940.
STARTERS
Homemade Roasted Butternut Squash and Walnut Soup - served with a warm poppy seed roll.  
Tricolour Salad - Mozzerella, tomato and avocado covered in a garlic and basil olive oil, drizzled with balsamic glaze. 
Prawn Marie Rose - Served on a bed of crunchy iceberg lettuce and crusty bread. 
MAIN COURSES
(Choice of): Roast Turkey; Sirloin Beef: Honey Roasted Gammon - All Served with goose fat roasted potatoes, pigs in blankets, served with a homemade gravy and cranberry sauce. 
Salmon En Croute - Served with a white wine and spinach sauce and parsley buttered new potatoes. 
Nut Roast (v) - Accompanied with olive oil and buttered rosemary roasted potatoes, served with a homemade gravy and cranberry sauce
All main courses are served with Brussels sprouts, cauliflower and buttered carrots.
DESSERTS
Rich Christmas Pudding - Served with homemade brandy sauce. 
Homemade Cinnamon Apple Strudel - Served with a homemade vanilla pod custard. 
Cheese Board - English mature Cheddar, Brie and strong Stilton, served with crackers, grapes and apple chutney. 
Non-refundable deposit of £10 per person is required for ALL bookings to secure your reservation.  Full payment is required 14 days prior to your event.
Management reserves the right to alter or amend any of the contents, menus and prices and packages as necessary without notice.  In the event of a party night having to be cancelled by the management, an alternative date will be offered or a full refund given.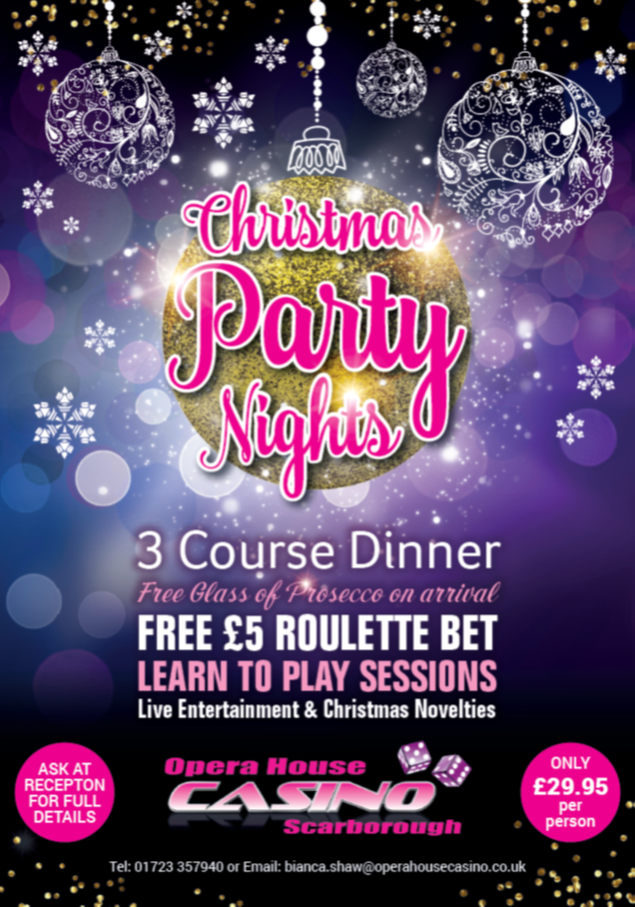 join us for great live entertainment every Saturday night in the Stalls Bar from 11.30pm....
December 1 - Jo Summers 
Outstanding female vocalist singing a vast array of songs from 70's up to present day hits. 
December 8 - Joel 
Swing and pop for everyone!  
December 15 - Mike Carnell 
Fantastic vocalist, singing a different range of styles from musical theatre to 60's, 70's & 80's 
December 22 - Rachel 
A big voice from a little package!  
Management reserves the right to change or cancel any event without prior notice.
Opera House Casino offers the traditional Chinese game of Mahjong, Sunday to Thursday from 8.30pm (except Bank Holidays).
---
Management reserves the right to change or withdraw offers / events at any time